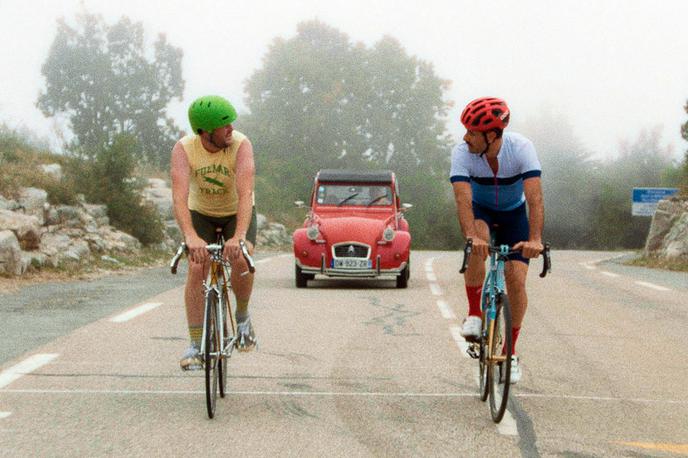 The Climb is a fantastic movie. It has the trappings of a buddy movie, but it also seems to be something of an anti-buddy movie. Right from the get go there is tension and conflict and violence, and that continues for the duration through a series of emotional set pieces.
The main characters are Mike (Michael Angelo Covino) and Kyle (Kyle Marvin), and that they both take their own first names as characters probably says a lot. Mike is extremely convincing in his role and is cast pretty much perfectly. The script is constantly telling us things about Kyle that we can't quite see otherwise, which is really my only real complaint with the film.
The film does cover a lot of ground, mostly with a single scene or series of scenes within a short time period where the action and dialogue fill in what has happened in the interim. Indeed, there are a lot of elements that just go unexplained and it's just as well (what were they doing in France?!?). The film offers a lot to think about, particularly about friends and family and relationships and loyalty and obligations and, ultimately, the capacity for forgiveness. It's really great.
I was struck by the many recurring symmetric plot elements and settings sprinkled throughout the film. The characters get to engage with similar circumstances on multiple occasions, and the movie challenges the viewers to think about action and motive and why people do things for their friends and family, or do things that hurt their friends and family. The film has a surprising amount of physicality, often violent, occasionally touching and intimate (though not that hip thing intimate), not quite predictable.
(There is also a considerable amount of heavy drinking (Jägermeister shots, of all things. Smooth), so if that's a trigger for you, perhaps you should avoid this one.)
Along with that, we are treated to several set-piece interludes, including an African-American cemetery crew, a Ukrainian three piece featuring some wicked accordion, and some middle-aged synchronized skiing! Perhaps visceral is a better word than physical.
Once again Dr. B was riding shotgun on this one, and once again we had the theater to ourselves, so far over the $5 I can't even tell you. If you are immune to Covid, you should definitely make The Climb.