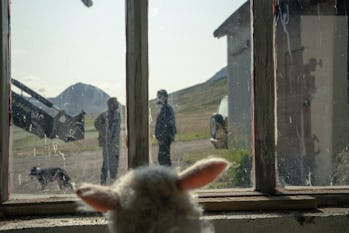 Man versus Man. Man versus Nature. Shepherds and sheep. Live-action deliveries. Isaac and Abraham. 80s pop. At least four of the Ten Commandments, especially the tenth. Wrath of God. Wrath of Lamb. This film has it all.
Noomi Raplace (of Girl with the... fame) and Hilmir Snær Guðnason (I had to look up the spelling) carry heavy loads as the leads in a film where sheep outnumber humans by a pretty wide margin. As for Raplace and Guðnason, they play a staid married couple at what is certain to be a pivotal point in their marriage and their lives. In an early scene the couple has a breakfast conversation about time travel that gives you the sense that they are in no hurry to go forward, and they definitely don't want to go back — perhaps they should just stay at the table.
The movie was shot in Iceland (and possibly Poland), and the film makers were not afraid to pull out the wide-angle lens. The continous canvassing of the landscape and the setting reveal many things that are otherwise otherwise left unsaid (the film has subtitles, but human dialog is pretty sparce). One thing we learn, for example, is that they own a fair swath of property that is pretty far afield from the bus stop that gets you to Reykjavík. And, of course, the lead couple tend to crops and have more than just a few sheep.
The pace is deliberate, to say the least, and there is not a lot of on-screen action. Indeed, pretty much everything that does happen would constitute a spoiler in one way or another, so describing the plot is out. Let's just say the film opens with some live births in a manger on Christmas Day, and the religious imagery only gets thicker from there. I have a feeling if I had paid closer attention in Sunday school back in the day, I would have more to work with on this review.
L was no help on that front — still smarting from Midsommar, he left Dr. B and me in the proverbial Icelandic desert on this one. And, as such, we shared a fair bit of headscratching as we made our way to the parking lot. So I will close this up with a bit of the New Testament that I do remember, my favorite of the Lamb of God responses: Have mercy on us.