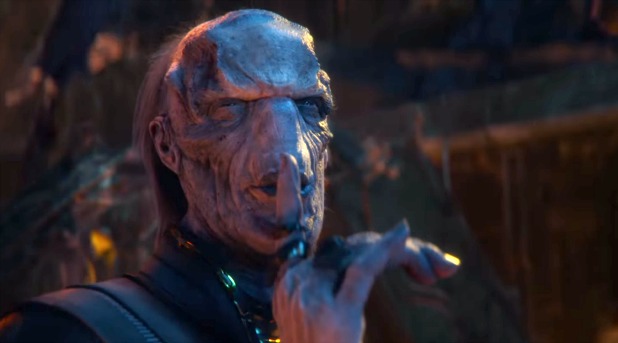 L&D made our way out to join a packed theater for the Appleton Premier of the new Avengers movie Thursday night, and it was an overwhelming experience.  To our right was a mom and dad with their eight-year old kid.  The kid lost it near the end of the movie (does this movie end?) and the dad picked her up and carried her out, telling his wife that he'd see her back at home.
To our left was a young couple, possibly out on a date night, and at the conclusion of the end scene the young woman expressed her frustration thusly:
"I just can't with this movie."
Astonishingly, the movie is generally getting solid reviews, though many of the things posted at Metacritic as favorable didn't seem terribly positive.  As you probably know, the movie represents a convergence of the near-infinite components of the the  Marvel universe, including The Avengers, Spiderman, the Black Panther, Dr. Strange, and the Guardians of the Galaxy characters.   The story arc is putatively a continuation of what was going on with these, and we get some good laughs and some decent action as the movie ramps up in its first hour.   The scene where Thor meets the Guardians crew is a highlight. The new Spiderman continues to impress and save scenes.  And Peter Dinklage as an oversized dwarf was a big plus.
After that, though, it just doesn't stop.   As L again points out — why didn't he write this review? — if *anything* can happen, there is no suspense.  After a few set up scenes we get 100 minutes of non-stop action, brilliant special effects, windows to other dimensions, mortals fighting gods, gods fighting mortals, dogs and cats living together, pandemonium.  The movie pretty much suffers from the same flaws as those epic X-Men movies that even TNT wont show, only at an even massiver scale.  Yes, I said massiver.  Understatement is not the issue here.
As the packed house filed out of the theater, L observed that the mood of the crowd was that of leaving a ballgame after a big loss.   If you have ever gone to a game where a frenzied crowd is expecting a W and the home team lays an egg instead, you probably know what I mean.   Probably right at the $6 bar, but we paid $10 to see it in 3-D.   I think we're all looking forward to the next one, but not because we liked this one.
Anxiously awaiting Deadpool 2!
Book plug:  As part of our first quid pro quo, I would like to tell you about a book former Champaign Mayor Don Gerard calls "a minor masterpiece of modern fiction," Cocaine Zombies, by Scott Lerner.   If you like cocaine or zombies or Urbana-Champaign, there is something for you in this book.   It is definitely on my summer reading list when I get around to updating it.